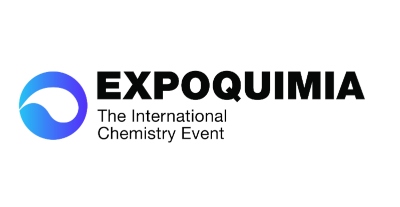 IRIS Technology presents its solutions at Expoquimia 2023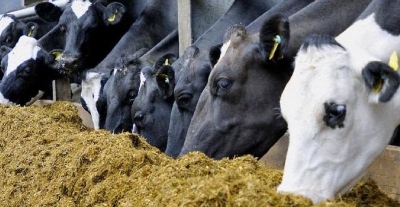 Forage and feed analysis with NIR spectroscopy
Industry-4-0-fr
5 avril 2023
Raw Material Analysis using handheld NIR analyser Visum Palm™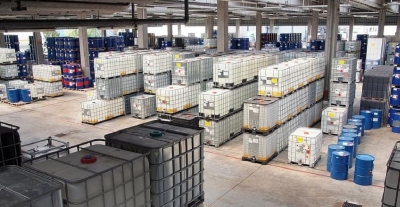 Raw Material Analysis - NIR analyser Visum Palm™
NIR spectroscopy (near infrared spectroscopy) is a non-destructive analytical technique widely used in the analysis of raw materials in numerous industries, especially pharmaceutical industries that must control and ensure the quality of all raw materials used in the manufacture of any pharmaceutical product according to the Spanish, European or American pharmacopoeia.
In this field, NIR spectroscopy helps to identify and verify product quality, purity, potency and safety for use in the manufacturing process and to ensure that they meet the specifications that the final products require to reach the consumer with the pharmacological characteristics for which they were designed.
The Visum Palm™ portable NIR analyser is a spectrophotometer that operates in the 900-1700 nm range useful for the identification of pharmaceutical raw materials and has a spectral resolution of 256 pixels and a measurement spot wide enough (10mm) to obtain more chemical information from the analysed sample and to be more sensitive than other spectrophotometers to heterogeneities, even those derived from particle size for substances that are very similar. The analyser has an illumination system that fires a large amount of light at the sample and a collection system that takes advantage of the large amount of scattered light.
Visum Palm™ Handheld NIR Analyser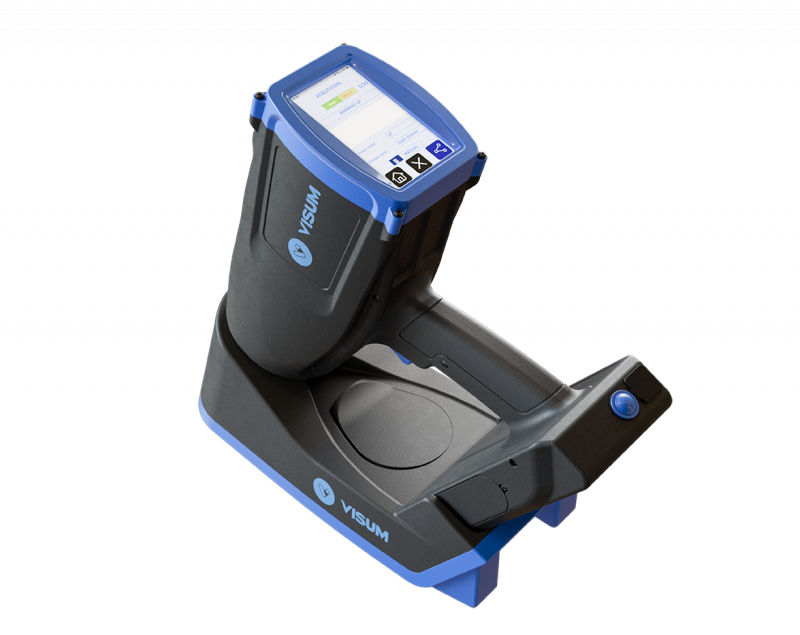 Among its special features for the pharmaceutical industry, the Visum Palm™ analyser has a software structure that is also compatible with the FDA's CFR Part 11 regulations, according to which the confidence, unalterability and traceability of the electronic records of each of the measurements or analyses must be ensured, and for this purpose it has different levels (Analyst, Supervisor and Administrator) and user permissions. It can also perform measurements through transparent plastic bags, which are normally used in the pharmaceutical industry for hygiene, safety and to preserve the safety of drugs.
The handheld NIR analyser can be configured to display the analysis results in a variety of ways, either for class identification or raw material verification, within a library of pre-configured models on the device. A particular note for users of these devices is that for the use of generic NIR libraries, spectral range compatibility between the models and the device must be taken into account. IRIS Technology has its own raw material library, develops its own calibrations and in addition, through the Visum® desktop suite, the user can make his own quantitative (% w/w) and qualitative (identification or verification) models.
Image 1: Main measurement screen shot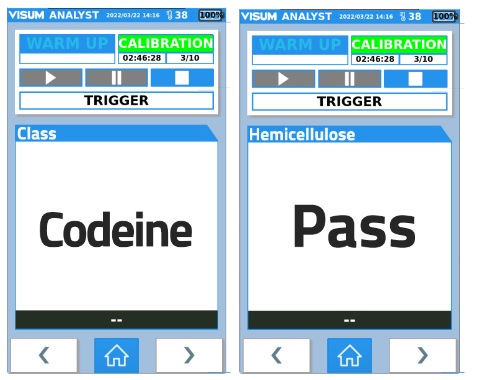 The results of each measurement (identification of the batch analysed, predictive model used and results obtained) are automatically saved in an exportable file in .pdf and .csv format, as well as the graphs of each measurement (Absorbance, Raw, Bright and Dark), which are shown below.
Image 2: Available graphs of each measurement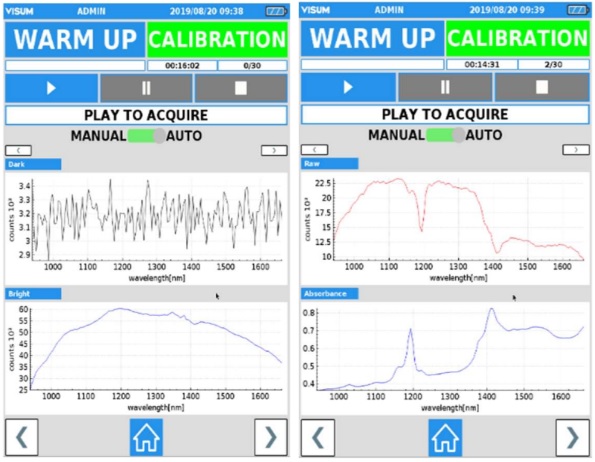 The sampling technique may vary according to the protocols of each factory, normally and as already mentioned, it is carried out directly through transparent plastic bags. For liquids and other solid or powdery products, the Visum Palm™ analyser has specific sample holders to work with the device and a support base to use it even in desktop mode.
In conclusion, NIR spectroscopy is a fundamental ally to simplify quality control tasks in the raw materials warehouse and has numerous advantages: it does not require consumables, sample preparation or even specialised personnel for its use, and allows real-time results and complete traceability of each of the measurements.
For more information or a demonstration, we invite you to contact us at the following link.
Par IRIS Technology Solutions