Visum Palm™ - Handheld NIR analyzer
Handheld NIR analyzer for use in the field or at different points in the manufacturing process, from raw material to final quality control.
REQUEST A QUOTE
The VISUM Palm™ is a handheld NIR analyzer, easy-to-use for real-time chemical composition determination of a wide variety of materials and mixtures, thus reducing laboratory analysis times, production costs, lead time and minimizing risks in the production chain.
In addition to a powerful spectrophotometer, the Visum Palm™ analyzer has a 10 mm measuring spot and an illumination and light collection system that together guarantee to take advantage of the maximum information available in the scattered light due to the heterogeneities present in real-world samples. It has an autonomy of 5 hours of intensive use, full Wi-Fi connectivity and does not require sample preparation, specialized personnel or specific probes. Among its most popular applications are the verification and control of raw materials, anomaly detection, food analysis, quantitative and qualitative determinations of APIs and excipients as well as the identification of polymers, classification of plastics, among other materials and products.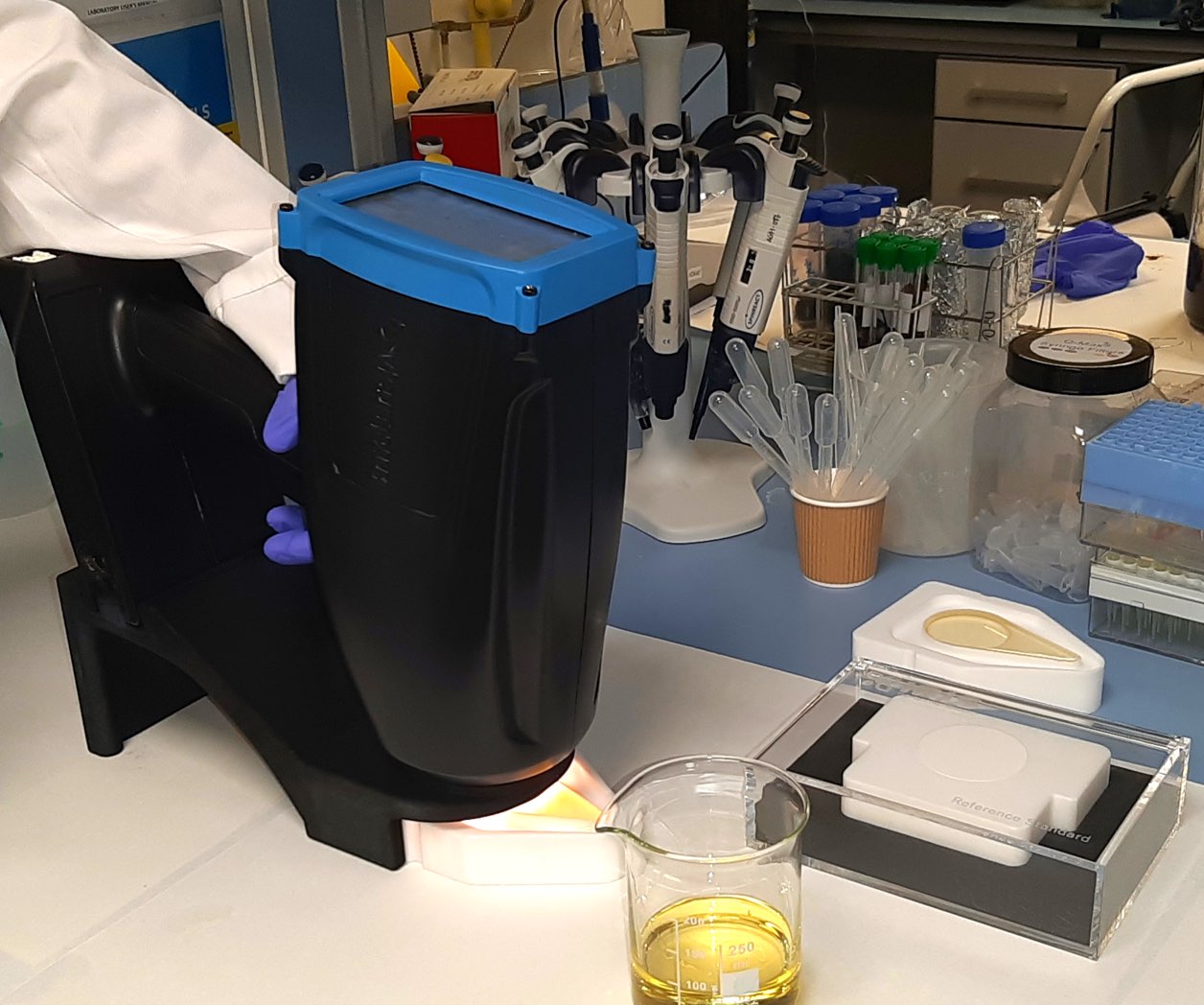 Robust, accurate and designed for industrial environments and field use.
Excellent repeatability and accuracy of measurement.
Determination of multiple parameters with a single instrument.
Quantitative and qualitative determinations.
Non-destructive analysis without sample preparation.
Use does not require highly skilled operators.
A 10 mm measurement spot to mitigate heterogeneities and obtain more chemical information.
Ethernet / Wi-Fi connection.
Food
Control of quality parameters in fruits, vegetables, minced meat, pastries and bakery products, oils, powders, flours and other food products.
Rapid raw material verification
Typical particle size
Pharma
Identification of APIs and excipients.
Particle size determination.
At-line control of formulation content uniformity.
At-line determination of the end point of unit processes.
Raw material identification and anomaly detection.
Other Industries
Classification of plastics.
Show technical specifications of the handheld NIR analyzer
Typical single spectrum acquisition time
Diffuse reflectance, interactance and transflectance (with a dedicated holder)
Power supply for charging the battery in the dock station
230 VAC (1-phase). Consumption < 100W
Ethernet (TCP/IP) / Wi-Fi
Built-in 5.3 inch resistive touchscreen and manually operated trigger for acquiring the spectra